Study Night Recap: 57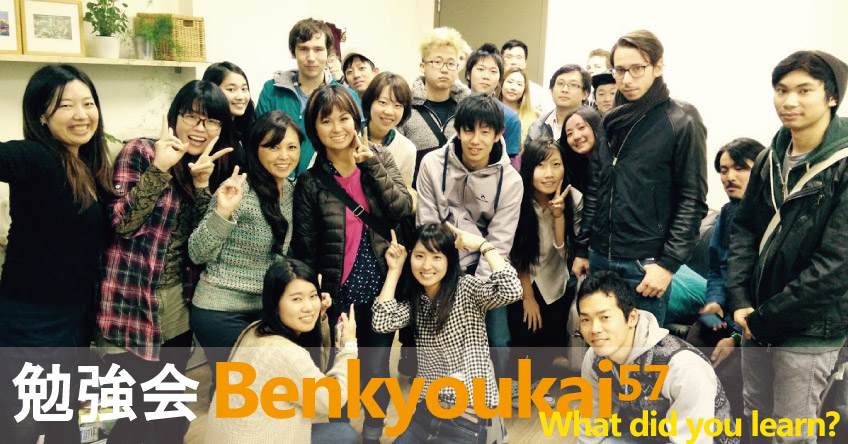 Study night has moved! We have introduced many new ideas to the study night to help everyone focus on learning as well as meeting new people. This week we had an activity where we exchanged as many conversational interjections as we could think of such as "マジで!" or "Excuse me?". Some groups came up with huge lists and some groups spent a long time discussing the details and specific usages of the more common ones. We separated into three different areas including beginner, intermediate and advanced so we were able to communicate at a similar level. It was lots of fun and we are now thinking of what we would like to do next week! If you have ideas or suggestions, please let us know!
Announcement
Going forward, everyone must register on our website and join the event. You can find 
detailed instructions here
. First you will need to
register
. After you have registered, browse over to the
Events
page to see what events are coming up. Choose an event you would like to join, scroll down and click "Register" to join the event.
Without further ado, here are two of the groups we decided to meet tonight.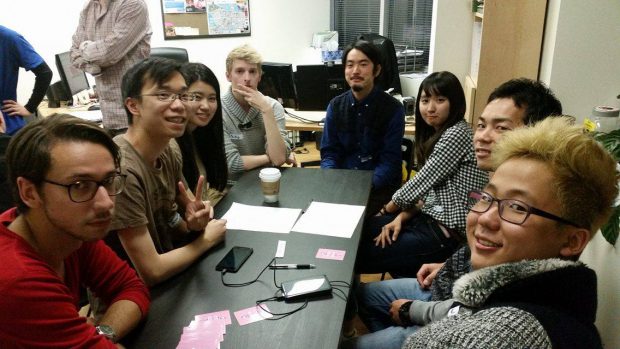 Manu, Jamie, Ayaka, Phlip, Masaki, Yurino, Shogo and Daniel were at the advanced Japanese level table. Their topic was 築地市場(つきじいちば、つきじしじょう) 築地(つきじ) is the location in Tokyo. They talked about all that in Japanese! 市場(いちば) means a fish market. Many fish and marine products are gathered there from all over Japan. Business scale of auction is the biggest in the world. In Japanese, auction is 競(せ)り. Tourists or other people from the general public can't buy anything at 競(せ)り but you can see the professional auctioneers which is very popular for foreigners. There are a lot of restaurants where you can eat the fresh products being sold; many of them are sushi restaurants. Ayaka lived in Tokyo and she had a tip on how to enjoy Tsukiji. Restaurants open at a very early time and the lineups become incredibly long for the popular and famous restaurants. If it is busy, you might expect to wait up to or over an hour before you can get a seat. You should take first train around 4am. That being said, you might still have to wait for up to 2 hours depending how busy it is! Enjoy!
---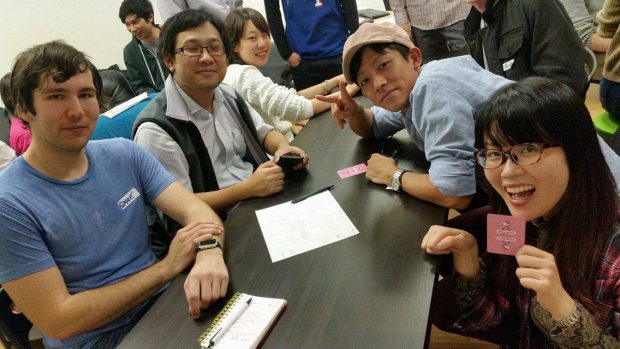 Grant, Bavaria, Yuma and Satomi from the intermediate group talked about inflection. In Japanese there are some same words that are spelt and pronounced the same (kanji is different) but have different meaning depending on inflection. Generally you can guess which is the correct word based on the situation even if you are unsure which is being said.
For example, 橋(bridge) and 箸(chopsticks) have the same pronunciation of はし. When you say 橋(bridge), the inflection is the end of the word (し), but when we say 箸(chopsticks), the inflection is at the beginning of the word (は).
Here are some other examples:
・雨(rain)、アメ(candy) ︰あめ
・石(stone)、意思(believe)︰いし
・柿(Japanese persimmon)、牡蠣(oyster)︰かき
・蜘蛛(spider)、雲(cloud):くも
・酒(rice wine)、鮭(salmon):さけ
Do you which words have the inflection on each side?
---
Here are all the sheets of the words we studied together. Click to zoom in:
---
Once again, if you need information about how to join, please click here. If you have questions, you can email support@yokosojapan.co.jp or send us a message on Facebook. Thank you and see you next week!