Study Night 213 Halloween event!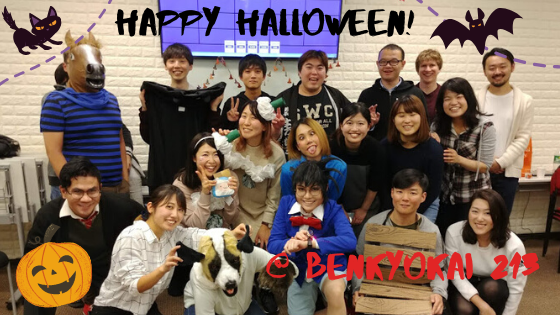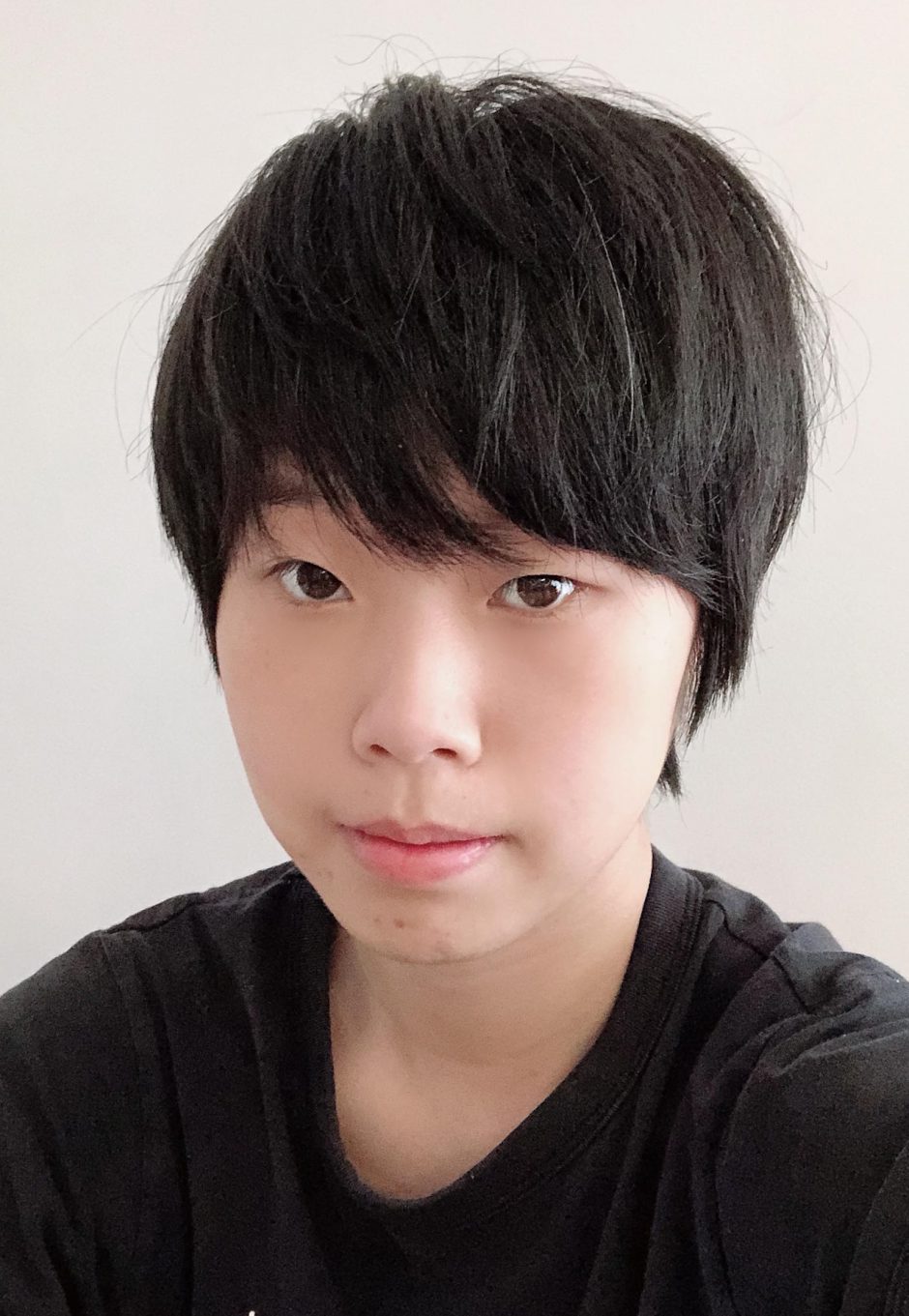 Hello everyone, this is Cat! The Halloween spirit is in the air, and I am super excited to tell you about all the cool happenings at Benkyokai's Halloween Party!
This week, we had a special Benkyokai with NO studying, but plenty of fun and treats! Many people came dressed up in cute, spooky, and glamorous costumes. Can you guess which Benkyokai volunteer is wearing the dog mask?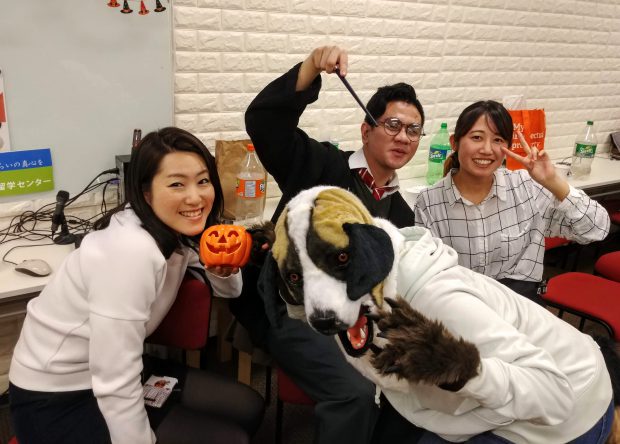 To start the party, we played a Jeopardy quiz game with three categories: Japan, Canada, and Halloween. The catch is, only English speakers were allowed to answer the "Japan" category, and only Japanese speakers could flex their knowledge about Canada. The Halloween category, which contained trivia about the history and traditions surrounding this special day, can be answered by both English and Japanese speakers. However, this category had the most difficult questions! For example: what yellow-and-orange colored candy is a long term tradition of Halloween? The answer is "candy corn". I bet a lot of people have never heard of candy corn because it's not popular among kids today; only dedicated Halloween fans can answer this question correctly!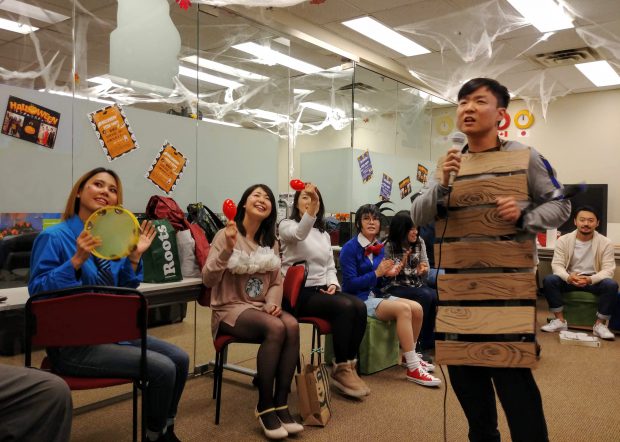 After the Jeopardy game, we enjoyed some pizza, drinks and pumpkin pie together while some people sang songs using our karaoke machine. Some of our English speakers took on the challenge of singing Japanese songs, and they all did amazingly well! Many of our Japanese attendees were surprised at how well-known Japanese music is in Vancouver. If you want to improve at another language, music is definitely a great place to start.
To finish up the night, we played a Japanese game called 何でもバスケット (Anything basket), a variation of what is known as the "Fruit Basket" game in English. With everyone moving around the room, the party became very lively!
Even though there was no formal "study" activity this week, it was awesome to see how everyone found ways to practice English and Japanese while enjoying the party.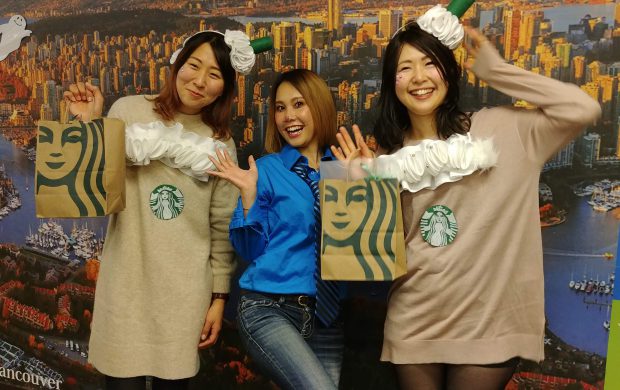 What do you think of our party? If it looks like fun, maybe you should think about joining us next week! Even though we can't have parties every week, we have them… Quite often! And the best way to get information about the next party while learning English/Japanese is to register and join us next Wednesday for Benkyokai. As always, if you have any suggestions for activities, please let us know in the comments below or chat with a volunteer in person!
For people who haven't been to Benkyokai before, it is an English-Japanese language exchange event taking place every Wednesday at JP Canada's office (#320-890 West Pender) from 6:00pm to 7:00pm. Sign-in begins at 5:45pm, and you can chat with the cool people around you while waiting for the weekly activity to start at 6 o'clock. During the activity, participants are separated into groups with roughly the same number of English and Japanese speakers, where they will help others learn the language they want to learn by completing a task or game together. If you're interested in joining us, please sign up on our website or Facebook . We welcome English and Japanese speakers of ALL levels, so don't hesitate to join us! 🙂