Study Night 109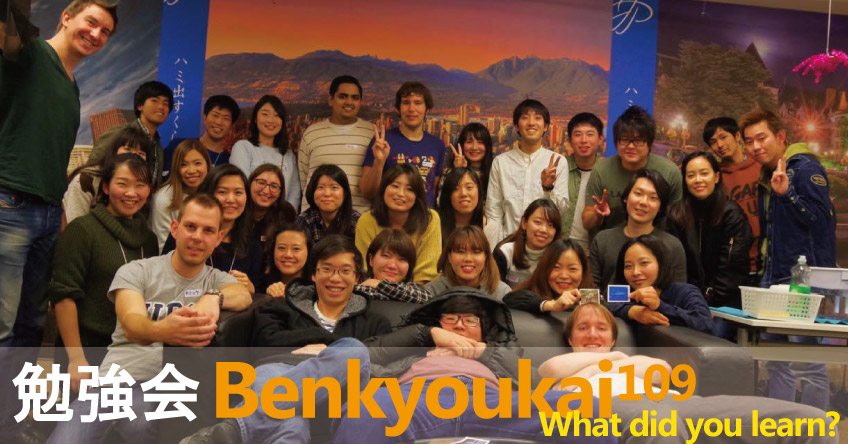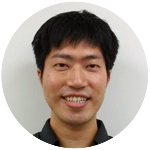 Hello, everyone. This is Naoki. It was good to see you again!! It was the second time to organize the activity for Benkyokai. To tell the truth, I did it unexpectedly yesterday. But because of it, I felt so much better to do it than last time. I am getting used to it. Anyway, thank you so much for coming to the 109th Benkyokai, even though it was raining terribly. According to the weather forecast, it might be raining for a week so please take care of yourselves. For people who visit our website for the first time, let me explain what Benkyokai is. Benkyokai is a language exchange event to connect those who would like to learn Japanese with those would like to learn English through conversation and activities. For the first 30 minutes, you can do free conversation. And for the next one hour, we have an activity to help you study more. We try to do different activities each time to learn Japanese and English in different ways. There are native speakers of both Japanese and English.
Actually, the first time I joined Benkyokai as an attendee was the 33rd Benkyokai in April 2016. Since then, I have tried to participate in Benkyokai as many times as I can. You know why? Because it is one of the best places not only to exchange  language but also to know other cultures, lifestyles and more!!
Benkyokai is held at JP Canada's office (890 West Pender) from 5:45pm to 7:00pm. Please bring your own food or drinks if you would like.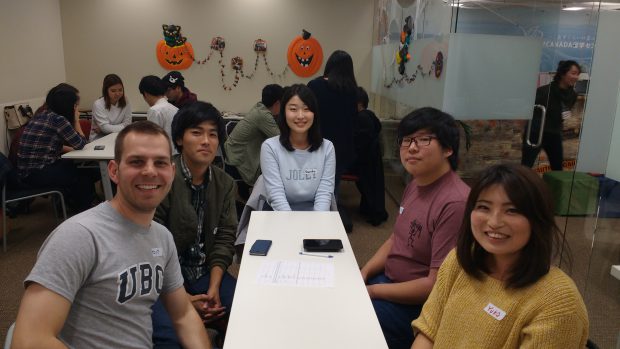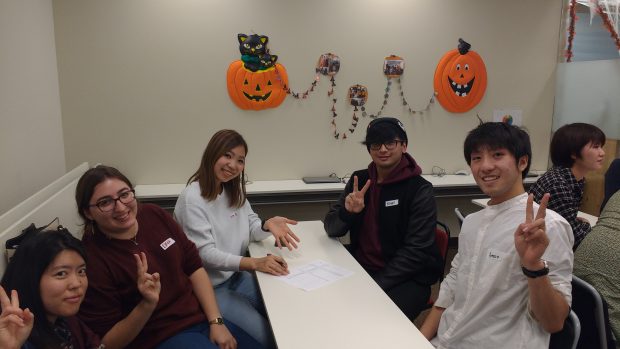 The topic we studied yesterday was the cry of animals(動物の鳴き声). We saw the differences of the sounds of animals between English and Japanese. It was very interesting to know the differences. Some of them are very similar or the same, however, others of them are completely different!!!! I was wondering why we hear the sounds so different. One reason why is because in English, often animal sounds are described by what they do and not actually the sound they are making. For example, a dog barks (verb) but the sound they make is "woof woof" or "bow wow". Many animals in English don't have sounds so we use the action word to describe it.
Here are the examples that we learned yesterday. Take a look:
No.

Animal:動物名(どうぶつめい)

Sound they make:鳴き声(なきごえ)

English

日本語(Japanese)

English

日本語(Japanese)

e.g.

     cat

漢字:猫

ひらがな:  ねこ

Romaji:   neko

    meow

        にゃー

1

   mouse    

漢字:        鼠      

ひらがな:   ねずみ

Romaji:    nezumi         

squeak-squeak             

     ちゅうちゅう           

2

   cow    

漢字:        牛        

ひらがな:   うし   

Romaji:     ushi       

    moo       

     も~          

3

   tiger           

漢字:        虎        

ひらがな:   とら         

Romaji:     tora   

  growl, roar           

    がおー           

5

   snake            

漢字:        蛇      

ひらがな:   へび

Romaji:     hebi       

    hiss          

    しゃー          

6

   horse  

漢字:        馬          

ひらがな:   うま   

Romaji:     uma        

    neigh        

    ひひーん 

7

   sheep            

漢字:        羊         

ひらがな:   ひつじ

Romaji:    Hitsuji 

    baa         

     め~          
8

  monkey   

漢字:        猿         

ひらがな:   さる

Romaji:     saru

chatter, screech         

   きーきー          

9

   rooster            

漢字:        鶏     

ひらがな: にわとり          

Romaji:  niwatori        

cock-a-doodle-doo        

こけこっこー              

10

   dog     

漢字:        犬         

ひらがな:   いぬ   

Romaji:     inu        

  bow-wow, woof

  わんわん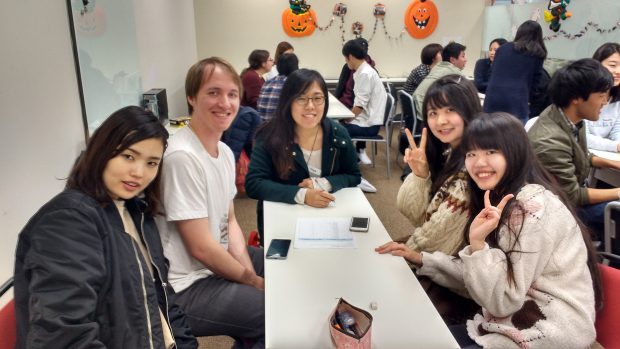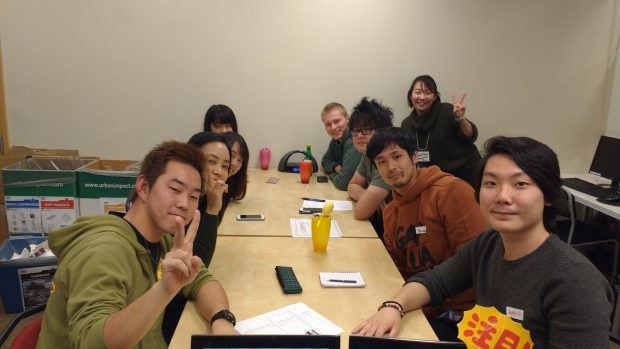 In the second part, we imagined and made the sounds of animals that we might never hear such as a rabbit, a boar and a dragon!? The cries that the attendees created are below. If you scroll down and look at the scans of the sheets we used, you will find them. They were very imaginative.
After we finished this activity, we had another activity. It was called "Who AM I?"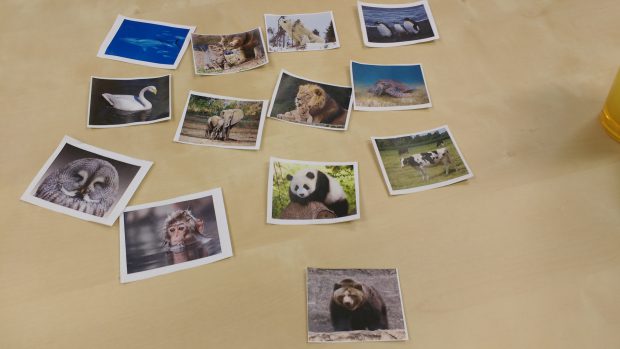 Here is how to play it. All the sheets are face down and one person picks up one of the pictures of an animal. This person holds it on their forehead so that the other members can see and the person holding it cannot. He/she then asks questions like "Do I have a tail? ", "Do I live in the forest?" and the others answer. Then, he/she  guesses and answer to who he/she is. An alternative way some people played is they all pick up a sheet at the same time and hold it to their foreheads. Then they take turns asking questions and trying to figure out who they are.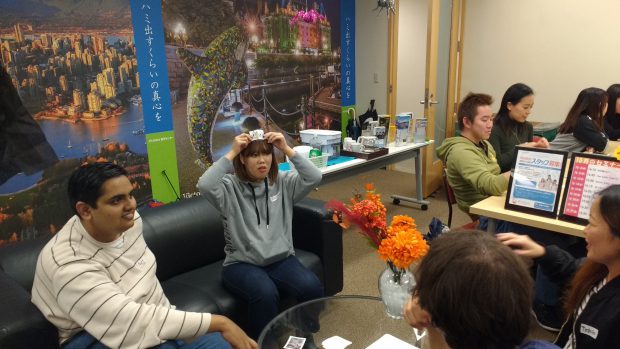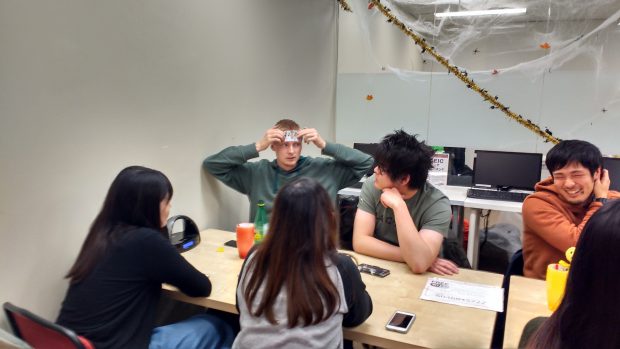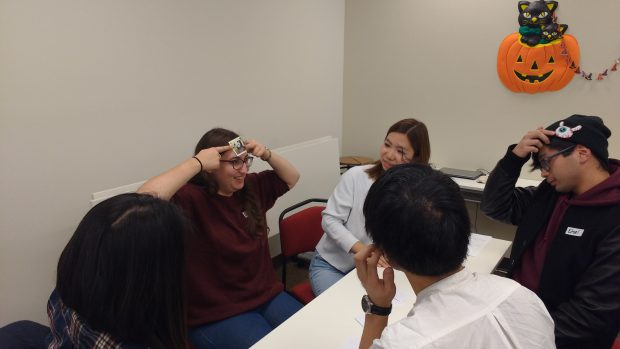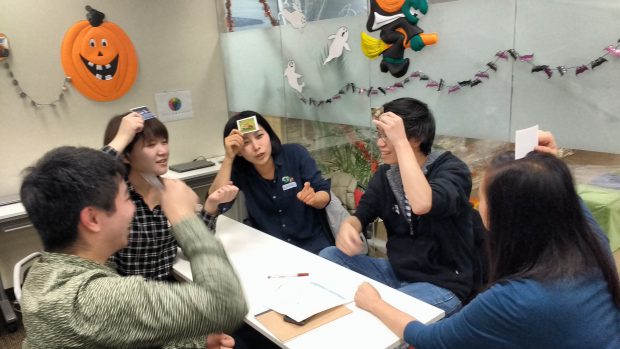 This is a language exchange event. Of course English speakers tried to ask in Japanese and vice versa.
---
Here are the activity sheets we used yesterday. Have a look. 
---
I hope you found these tips helpful. If you have any request or things you would like to learn about the language and the culture, please talk to us during one of our Benkyoukai sessions! We suggest you register as soon as possible! We are looking forward to seeing you all next week 🙂 See you then!