Okinawa – Present Tropical Japan, Ryukyu Kingdom past: My Japan Trip Part 10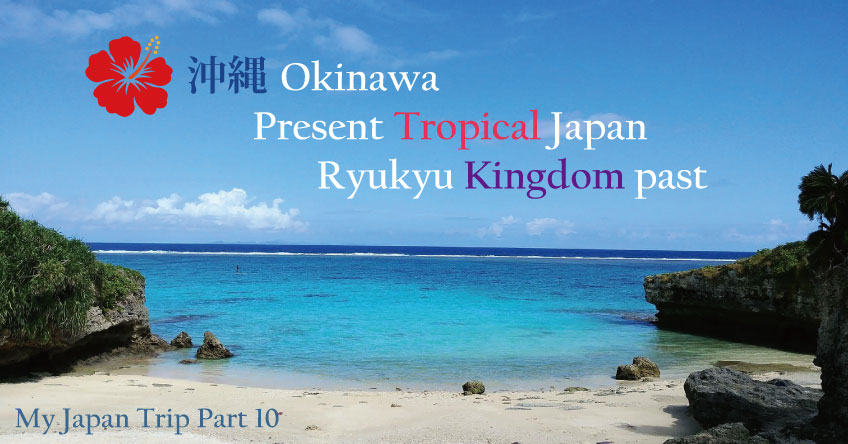 I spent six days in Okinawa during my travel to Japan this time. The Okinawa part of my going-home-trip (帰省Kisei) was traveling somewhere that would be a little treat for me and finally give me a totally on vacation feeling.
I first landed in Tokyo; staying a few days to do a little work, see some unknown areas I had never been to before, and discovering nice places. Also enjoying yummy unique restaurants was another joy of this trip. Japanese restaurants are amazing, with so many to choose from and so many styles available at reasonable prices. From breakfast to lunch to dinner, where to eat next was part of every day's fun in this mega city!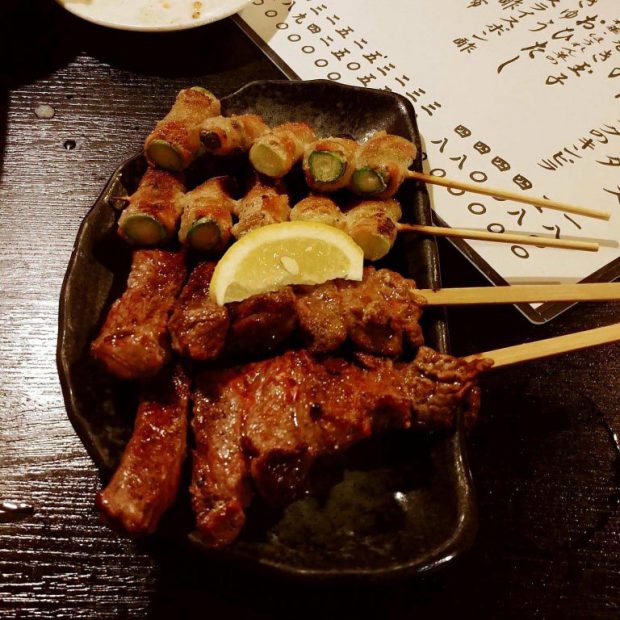 The final destination of our trip was Okinawa, I was challenged for the first time by Okinawa's food as well. Yes, this is my first time to visit to Okinawa in whole my life (in spite of living not so far away in Kyushu for a long time).
Not that long ago Okinawa was not Japan, it was the United States for the period following WWII until 1969. But its much older history was as the Ryukyu Kingdom; their own country since ancient times, until it became part of Japan in the Meiji period in 1879. But thousands of years of their history were so mysterious and beautiful. Even now you can still experience their own Ryukyu Language and Culture and DNA in their smile.
Of course now there are lots of influences from Japanese traditional culture mixed with their culture.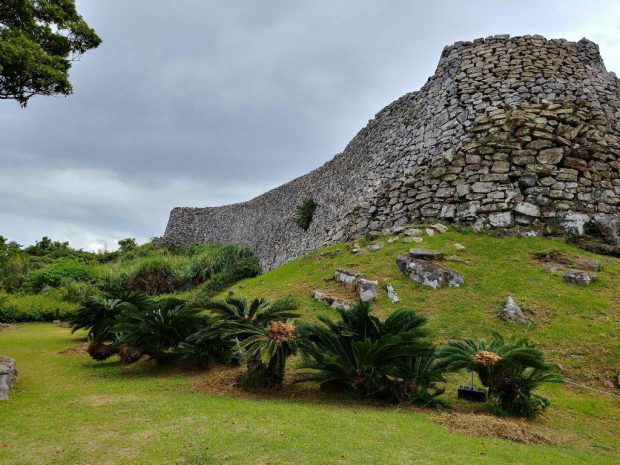 During the first part of our visit to Okinawa we stayed in what was called a "Hawaiian style" Cottage in Motobe, located in the north/central part of Okinawa island, a bit more than one hour drive north from Naha city. It was really Hawaiian style and the food was Hawaiian too! So you can kind of imagine Okinawa having a Hawaiian feeling in tropical Japan nowadays. I suppose I should have chose some traditional Okinawa style inn or something… but this choice was great for a vacation. I really enjoyed the tropical weather, scenery, beautiful white sand beaches, and the blue Coral Sea.
We were not able to try any marine sports this time, but you definitely should try kayaking or snorkeling.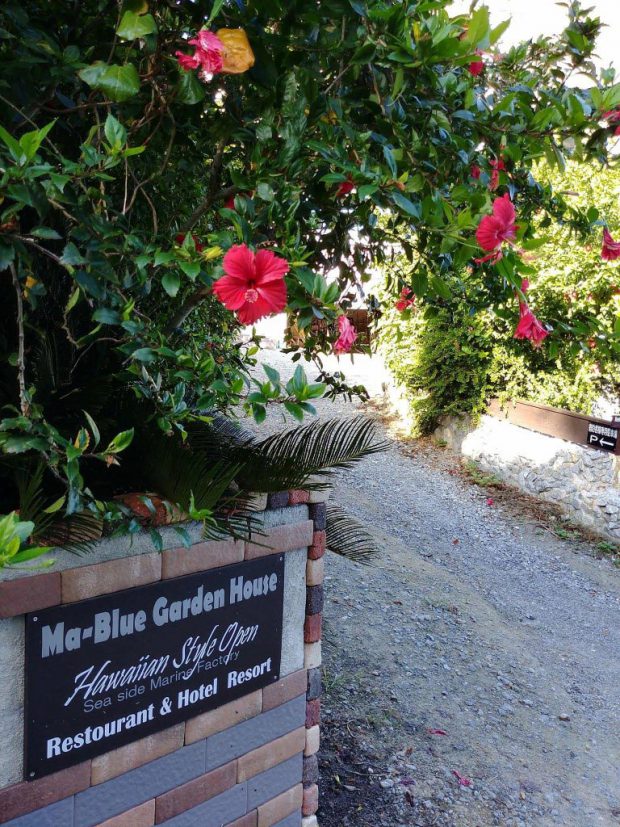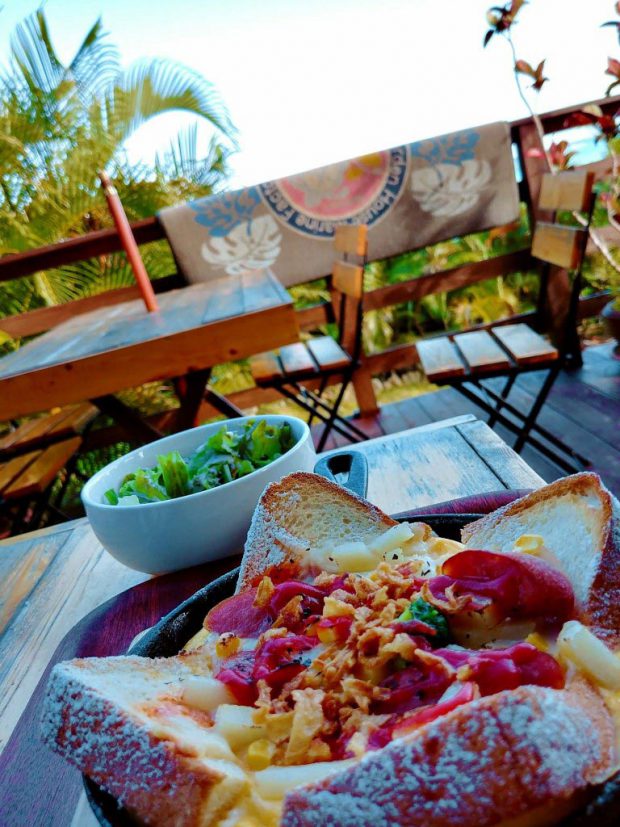 So what did we do? Visited a world heritage site with the old remains of a historical castle and hiked in the jungle around the site. Also, strolling around the beach side through old villages and went to the Bise-Fukugi tree walk. Simply walking is a fun thing to do sometimes in a different country. Especially Okinawa where the old streets and houses are so unique, always with the shisa on the roof or at the entrance of the house. And you will meet stray cats on the corner of the tiny block.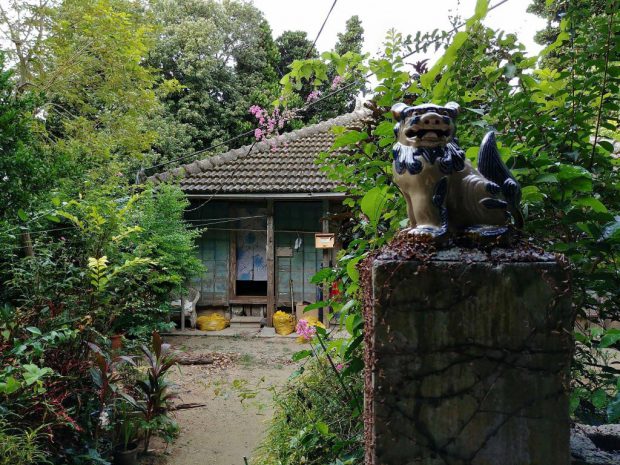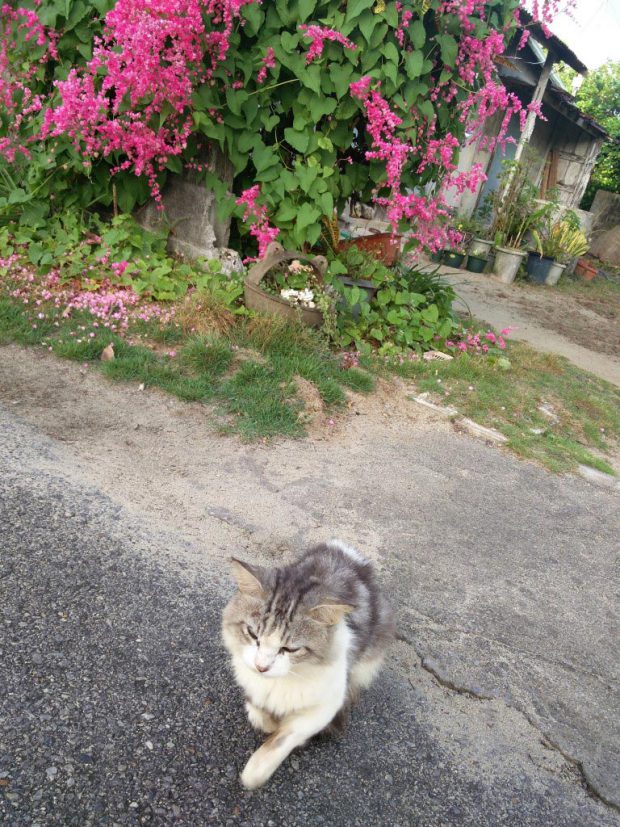 The Historical castle remains were so mysterious, I can't imagine how it looked when the castle was there…but it must have been huge and strong looking building with the stone foundation…like Machu Picchu in Peru? Or like China's ancient castle? There was only the stone foundations remaining on the site curving around the grounds. It must have really looked majestic at the time, adored by the people.
The day we were there it showered rain on and off, and the air was a humid 90%! Green lush trees covering the hills and the crazy ringing sound of Semi (cicadas) singing altogether…Ah~ This is Okinawa!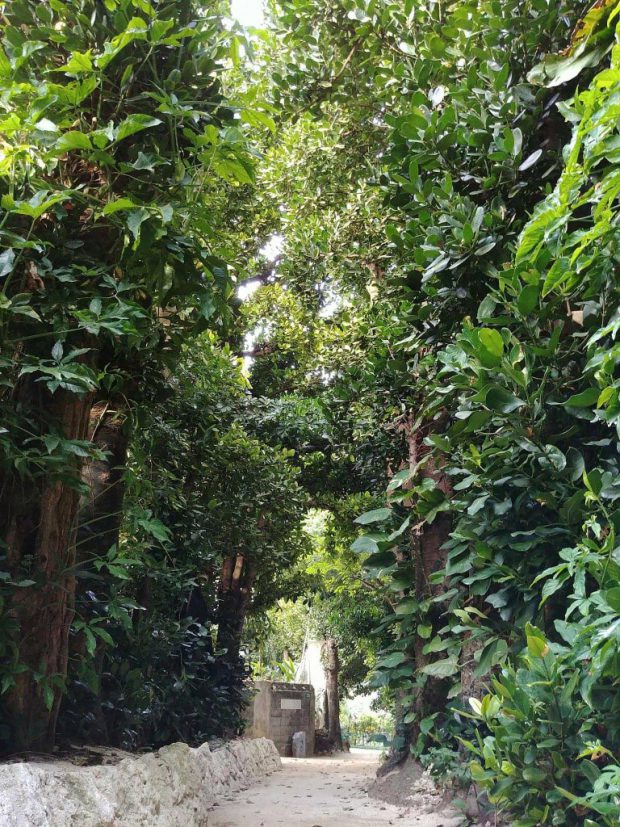 For the last couple days of rest in Okinawa, we experienced the capital city- Naha. Naha has a monorail (Yui rail) that runs from the Airport, through the center of Naha, ending near a National historic site – Shuri Castle. It is a cute and really convenient train to use for daily life for local people and tourists as well. We got a two-day pass which, in addition to the unlimited Yui rail rides, gave a 200 yen discount off the entrance fee to Shuri castle! That's nice!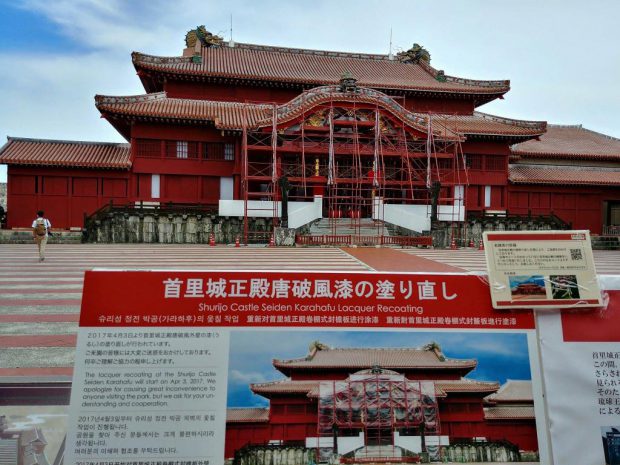 Naha has the big city feeling of a typical Japanese city – Kokusai street for sure. Yet, the restaurants are loaded with Okinawa foods. Have you heard of "Taco Rice"? Yes, Tacos with rice (not rice in tacos)… How about Okinawa soba? Goya champuru? or drank Awamori-Shochu? These are some signature Okinawa specials…You should try them all!
On my last day in Okinawa, I visited Okinawa ICLC (International Center of Language & Culture) Japanese language school. This was related to my work. This Japanese school is one of our language schools that we introduce to foreign students.
I was welcomed by the school receptionist Mr. Mayer, he has an N1 Japanese certficiate! He told me that he was from Michigan and studied Japanese at Naha University. Also Chief Motoyama joined us as well. We talked about school activities (Karate Demo lesson, sightseeing, marine sports, etc) and Okinawa's work opportunity for foreigners. My thoughts for Japanese language study is that you don't need to be in a certain place. If you want to learn rich Japanese culture, you should sometimes try something different than a typical big city. Maybe you will experience more local activities that are never seen online, or might start an interest in something you never knew before.
What did I start loving now? Okinawa music! What made this happen? It was the Ryukyu Shamisen experience in a Heritage house museum at the Okinawa Churaumi Aquarium. The lady doing the demonstration showed me how to play the instrument, and she sang for me at the same time. That was really beautiful. The song she sang was"てぃんさぐぬ花 (沖縄民謡)". (Youtube Link: https://youtu.be/umrXgvHTQls )
This song was played sometimes on Yui rail too. Such a beautiful song written in the Ryukyu Language (which I really don't understand the meaning of the lyrics – of course I need them translated to the Japanese Language) .
I've been listening to this music since I came back to Canada. My heart for Okinawa is still hot. I miss Okinawa so much.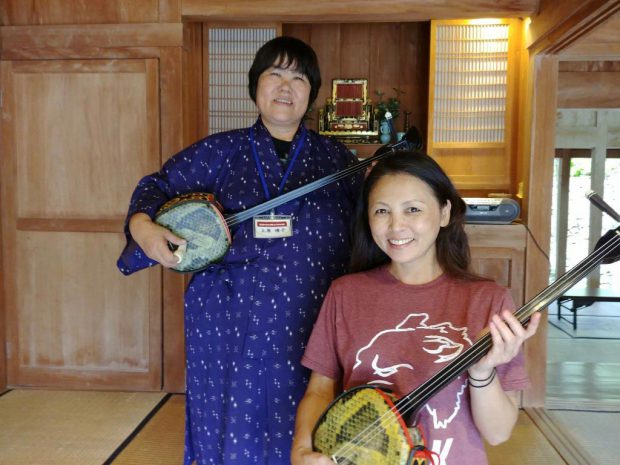 There are lots of sightseeing places in Naha. We spent hours at Shuri Castle. Amazingly this castle was destroyed 4 times, only to be re-build again and again over its long history…now, it again stands beautifully! For me, Okinawa is so exotic and so full of beauty that I will definitely return!
More about Okinawa and it's history here on Wikipedia: https://en.wikipedia.org/wiki/Okinawa_Island