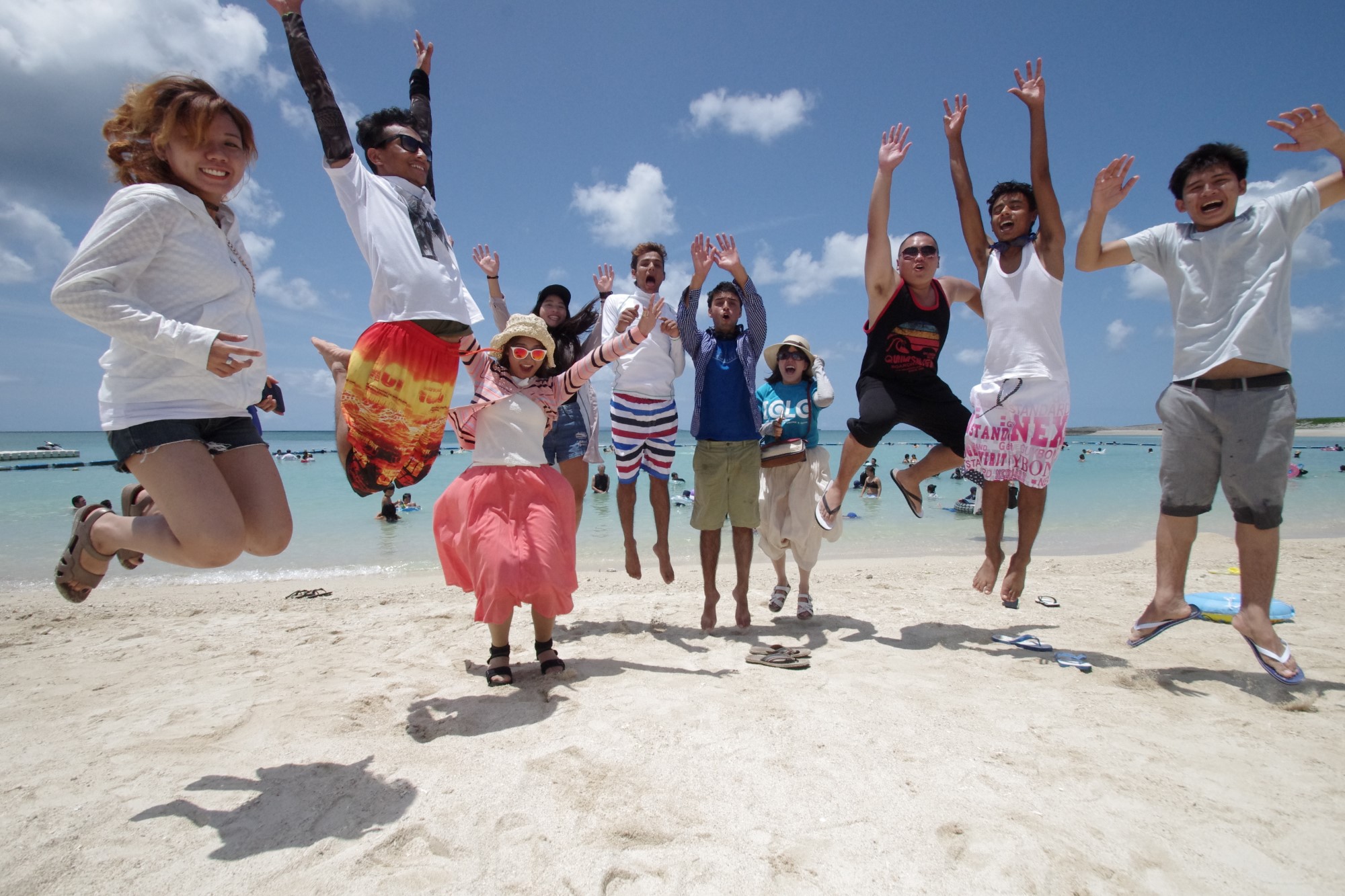 About ICLC Japanese Language Institute
Imagine studying Japanese in Okinawa, where you are surrounded by the clear sky and beautiful ocean. International Center of Language and Culture (ICLC), offers both short and long-term comprehensive courses in the heart of Okinawa. You will gain priceless opportunities to experience both traditional Japanese culture and unique Okinawan island living while you improve your Japanese communication ability. Of course, learning the Japanese language is important but we would also like you to enjoy life in Okinawa. To make your time on this beautiful island more memorable, ICLC organizes special events throughout the year such as a beach party (BBQ),a speech contest and school trips to local spots. You will never be bored in Okinawa with this school!
Location
Okinawa is located on the southernmost tip of Japan and ICLC is located in the hart of the capital city Naha on the biggest island. This subtropical area is considered by many to have some of the most beautiful views and places to visit in Japan. 
ICLC is located 10 minutes from the Airport and 15 minutes from beautiful Kokuba river. 
Courses

Course
Tuition
Description

Short Term
3-months

150,000 yen

Visiting Japan with a tourist visa or working holiday visa? This course may be just what you need. You can experience traditional Japanese and Okinawan culture while you learn fundamental Japanese communication skills in listening, speaking, writing and reading. The original duration of this course is 3 month/term. If you have a working holiday visa, you can extend the course up to 4 terms lasting 12 months.

Long Term
15-24 months

758,000 yen


per 12 months
(incl. student visa)

In this course, students learn and develop the comprehensive Japanese communication skills in listening, speaking, writing and reading in order to be able to further study their areas of interests in university or vocational school.  Also, this course includes studying for the Japanese Language Proficiency Test (JLPT). The length of the course varies according to the month that you start. Plus, depending on your level, it is possible to graduate in just one year.

Summer Course
2-week

150,000 yen
(incl. tuition, activity fees and dormitory)

Half of the two-week Summer Course focuses on learning practical and conversational Japanese and Kanji. The other half is for you to get the most out of your time in the beautiful tropical island of Okinawa. You' ll have the opportunity to try snorkelling, visit famous sites, make traditional Ryukyu glassware, and more! There are plenty of places to visit and practice Japanese in Okinawa.
Cultural Activities 

Access in Okinawa
Sign up Now
If you would like more information or would like to register for a course, please head over to http://www.yokosojapan.co.jp/#study and send us a message or send a quick email to info@yokosojapan.co.jp and we will get back to you shortly.