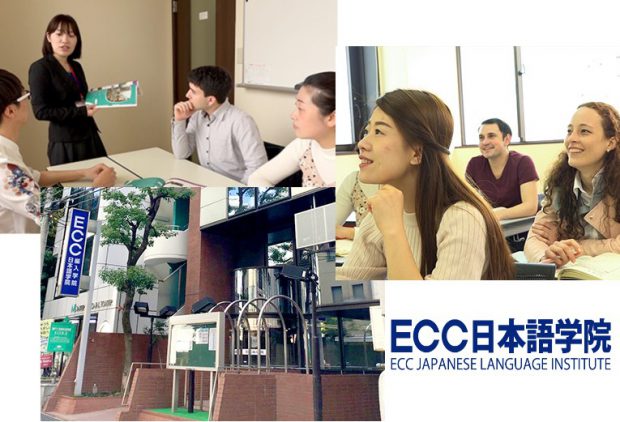 About ECC
Our main objective, encapsulated in our slogan "Beyond Japanese", is to help our students realize their goals that lie beyond simply learning Japanese. Our entire teaching staff, while keeping in mind why learning Japanese is essential for each student, work tirelessly to provide individual students with the guidance necessary to achieve their target level of Japanese language ability, and to also achieve their goals that lie beyond learning Japanese.
The courses provided by this institute are ideal for students who require Japanese language study to achieve goals such as entering into a Japanese university, graduate program, or vocational college. Our aim is to enrich our student's lives and make it possible for them to flourish in their chosen endeavors. Come and experience it for yourself.offers a wide variety of courses of all levels of Japanese. Students who desire to be admitted into university or graduate school in Japan, or wish to find employment in Japan, can benefit from a full education facility for learning Japanese.
Other than lessons, they have programs prepared for you to be able to experience more of the Japanese culture and fully enjoy Hokkaido. In the summertime, the whole school goes on a field trip, and various extracurricular activities are in store for each class.
Location
ECC Kobe is a modern school is located in Kobe, a city known for its signature marbled beef and nestled in a scenic setting of mountains framing the harbor.  For an amazing view of the area, take the antique cable car from Kobe to Mt. Rokko.  Venture beyond Mount Rokko to experience the outdoor hot springs of Arima Onsen. 
(ECC also has locations in Shinjuku Tokyo and Nagoya, let us know if you would prefer studying in one of these other locations)
Courses
Course
Length
Intake
Focus

Japanese Comprehensive


1 to 2 years
April / October
All levels
The Japanese Comprehensive Course allows students to systematically study the Japanese language to reach for their various goals, such as enrolling in a Japanese university. Students comprehensively learn the four skills of Japanese language:  listening, speaking,reading and writing, . Through level-based classes, tests that are carried out almost every day , our students are able to receive the highest standard of Japanese language education.
Classes are 5 days a week (Monday through Friday), with 4 lessons a day – AM 9:15-12:35, PM 13:40-17:00
Short-term
3 months / 5 weeks

January, April, July, October for the 3 month course

Additional Intake months of February, May, August, November for the 5 week course

Beginner, Elementary, Intermediate levels.

This course is for students who reside in Japan or who enter Japan from overseas with a 90 day permit on a short-term visa. Through acquiring a good balance of the four skills of listening, speaking, reading and writing, while also participating in a variety of activities, our students will be able to acquire the ability to speak "practical Japanese" that is needed for everyday life.
5 days a week (Monday to Friday), 4 lessons a day (45 minutes/lesson) / Morning 9:20 am – 12:40 pm, Afternoon 1:40 pm – 5:00 pm
Tuition and Fees 
Course
Enrollment
Tuition
Misc Fee

Japanese Comprehensive


1 year
1.5 years
2 years


52,000

+

21,000 (screening fee)

Japanese Comprehensive

670,000
1,005,000
1,340,000


6,000/yr Accident Insurance

Short-term*


3 months
5 weeks

11,000

Short-term

198,000
99,000

6,500
*For short term course applicants from overseas, we can arrange for accommodation in a student dormitory or semi furnished apartment, or with a homestay program!
Materials Fee
| | |
| --- | --- |
| Duration | Fee |
| 5 weeks | 1,100 |
| 3 months | 2,200 |
| 1 year | 10,000 |
| 1.5 years | 15,000 |
| 2 years | 20,000 |
All amounts in Japanese Yen
Access in Kobe
Sign up Now
If you would like more information or would like to register for a course, please head over to http://www.yokosojapan.co.jp/#study and send us a message and we will get back to you shortly.