Benkyokai 228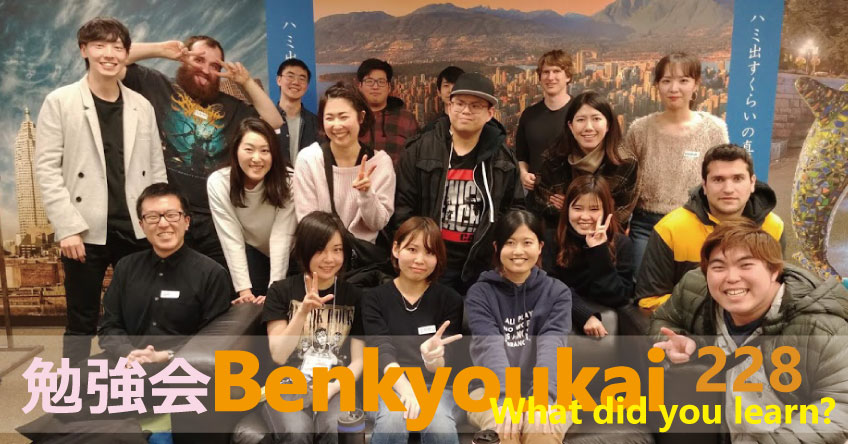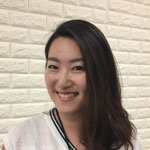 Hi everyone, It's Haruka. I'm a volunteer at Benkukai and I'm so excited to be working with you from now on!! Let me tell you all about myself. I'm a Japanese speaker from Tokyo and I've been here for two years. Now I'm having a lot of fun studying English and working. I'm not sure, but sometimes I think I look a little scary…!? But don't worry!! I'm much friendlier than you think:) So, let's talk to each other a lot!!
Let me explain what's going on for those visiting this blog for the first time. Study Night (Benkyokai) is a language exchange event to connect those who are interested in learning Japanese/English through conversation and activities using both languages. Sign-in is from 5:45 pm until 6 pm. You are free to hang out and have conversations with other attendees during that time. At 6 pm, we separate all attendees into groups with roughly the same number of Japanese and English speakers and we distribute the activity sheets. Benkyokai is held at JP Canada's office (#320-890 West Pender) from 5:45 pm to 7:00 pm. Please register yourself either on our website or Facebook to participate.
Our latest activity "trend" is the Guessing Game. The Guessing Game is not only for practising a language but also uses the brain a lot and is fun!
Why don't we enjoy playing it this week as well?
I wanted everyone to talk to each other, so I came up with an original discussion based game.
Today, we are guessing "WHO" and here is how it works.
First, we make groups with five or six members. Then you have two empty pages for each of you. You can write your pet peeves or the thing you don't like on the paper in English and Japanese. Collect all papers from group members and mix them up. While doing this, don't let anyone see the answers on papers. Now it's time to play.
First, flip one of the papers and make sure all members see the answer.  Now what members do is make up any fake stories related to the word on the paper and tell the stories to others. Please pretend that YOU wrote the answer even if you actually didn't write that answer.
If you make up a realistic story, you can make other members trust you that YOU wrote the answer. All members have 30 seconds each to tell the stories. If the word on a paper is English, you can tell your stories in English, if it's Japanese, tell the story in Japanese.

For example, if the answer is "Smoking",  then each member A – F, will tell everyone the story of the reason why you don't like "smoking" within 30 seconds. Member A can say "I don't like smoking because my clothes get a bad smell." Then next member B can say "I don't like smoking because my last boss was smoking a lot. I don't wanna be like him because I didn't respect him."
After all members finish telling their story, we are going to guess who actually wrote the words on paper. With 3,2,1, everyone points at the person who you think the person actually wrote "smoking". If you are pointed at by two members, then you get two points.
Keep doing flip the paper until all papers are gone. At the end, the person who has more points will be the winner.

Did you get the rules? It sounds complicated but once you start, you will see how to play.
Here are some examples of the interesting topics we came up with.
・Rumours
・Virus
・Sushi in Vancouver
・Getting stuck in a crowd
・ヌルヌルしたもの
・水害
・熱すぎる食べ物
・カエル
I believe this was a good practice to speak out and share thoughts with group members. In this activity, because the topic was pet peeves, each group got serious while talking to each other. I might try the same game next time with other fun topics as well.
This is all about this week's activity. I hope you guys enjoyed it.

A special note… this time at Benkyokai, it was the last day for one of our activity volunteers. Mari is going back to Japan. Thank you Mari for helping with our activities, we will miss you! Enjoy your life back in Japan, and we hope to see you again someday soon.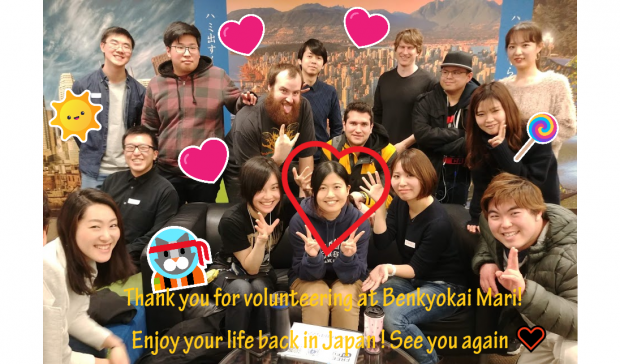 Have a great week, folks!